We usually have a range of steel and aluminium bars for most cars.
Steel bars are rectangular box section (32mmx22mm) and are usually steel with a black plastic coating. Steel bars are usually the cheapest option, but are not as aerodynamic, so they will be a bit noisier.
Aluminium bars (also known as aero bars) are typically about 80mm wide usually have a wing shaped profile. They are more aerodynamic than steel bars and they will be quieter in use.
A summary of the features / benefits of steel and aluminium bars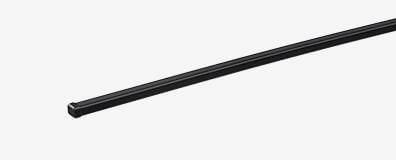 Steel Bar summary
Usually the cheapest option
Noisier than aluminium aero bars
Less aerodynamic
Most but not all of the bar can be used to mount accessories
Good option for occasional use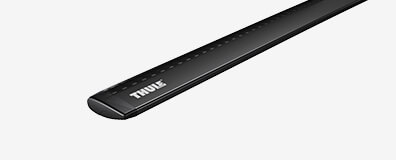 Aluminium(aero) Bar summary
Best option if you need to fit lots on your bars
Quieter than steel bars
More aerodynamic
The full length of the bar* can be used to mount accessories
Best option for regular use
Usually more expensive than steel bars
Attaching accessories (bike carriers, roof boxes, ski carriers, etc)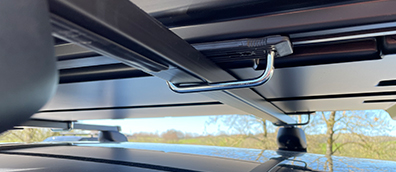 Gear usually attaches to steel bars using 'U' bolt fittings. You position the product on top of the bar and U bolt goes around the bars and attaches to the product with wing nuts.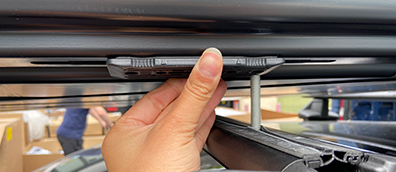 Aluminium bars have a channel running along the top edge, usually filled with a rubber strip, we call this a T-track slot. You often attach gear to this type of bar using T-track bolts - a T headed bolt that sides into the channel. This allows use of the full length of the bar.
Some accessories also come with fittings that are wide enough to clamp around aluminium bars. If you have got older accessories that fit to steel bars you'll need to check they will also fit aluminium bars. Sometimes older fittings won't be wide enough to fit around aluminium bars but T-track fittings are often available separately. Just contact us and let us know the make and model of your existing gear if you would like us to check if T-track fittings are available separately.
We have a guide to the different roof bar fittings. See the link below.
Guide to roof bars: Attaching items to roof bars