We supply a large range of kayak carriers, as well as other watersports carriers. The aim of this guide is to help you decide which style is best for you.
All our kayak carriers fit to roof bars, we have a range of roof bars available for most cars. Click here to select your car and view or range of roof bars. You can also use a kayak carrier on a Droprack system, which allows you to load your gear much closer to the ground.
It is easier to load kayaks onto longer 'though' bars, rather than shorter flush ended bars. You also need to be sure that the kayak carrier you choose comes with fittings that work with your roof bars.
We recommend when transporting kayaks, you use a cockpit cover to prevent the kayak being filled with water. If it rains, and a kayak fills with water, this weight can seriously overload the rack/car roof and also make dismounting very tricky. This is particularly important if using 'saddles' or a load assist carrier.
Types of kayak carriers
The three most common types of kayak carrier are stackers, J-cradles and saddles.
Kayak stackers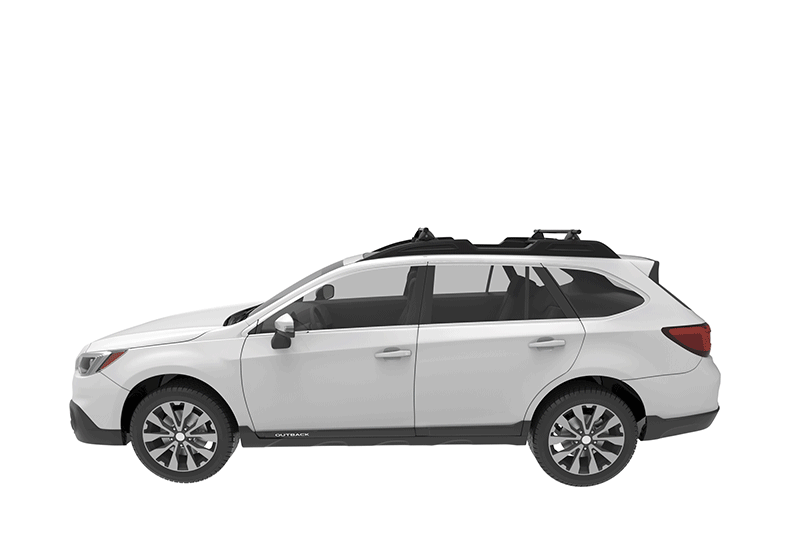 Usually the most economical option - particularly if you are carrying two or more boats.
The kayak is strapped to the upright, so you can carry one kayak each side. The kayak is positioned on its side, making them the most space-saving way of carrying kayaks.
They may be your only option if you want to carry two or more kayaks. It may even be possible to carry up to four kayaks, depending on the length of your roof bars and the maximum load that the bars and/or car roof will take.
J Cradles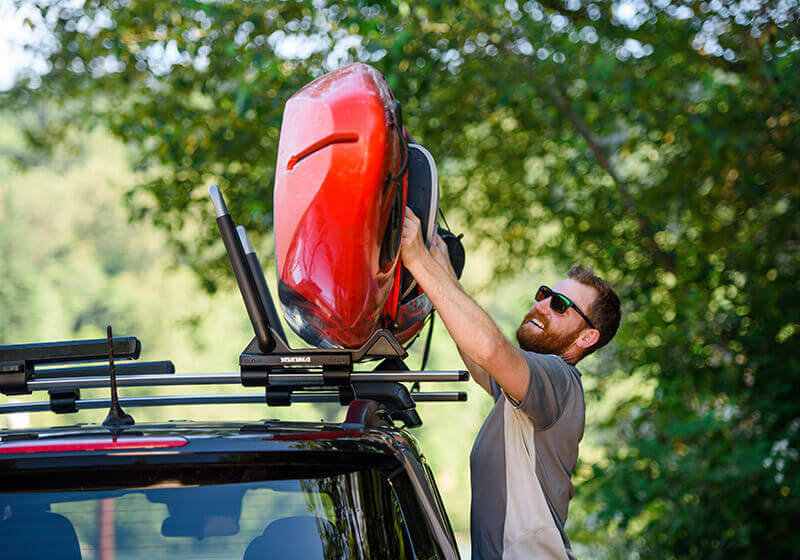 You load this type of kayak carrier from the side, making them better suited for smaller and/or lighter boats. They can even be easier to load than saddles if you have a smaller boat and a smaller car.
The cradle does support your kayak whilst you are strapping it down, making them easier to load than stackers.
The kayak is held at 45 degrees, saving space on the roof. You'll usually have space for two J-cradles, allowing you to carry two kayaks on most cars.
Some J cradles convert to kayak stackers, this could be an ideal solution if you occasionally need to carry more kayaks, for example the Yakima JayLow and Thule Hull-a-Port XT.
Saddles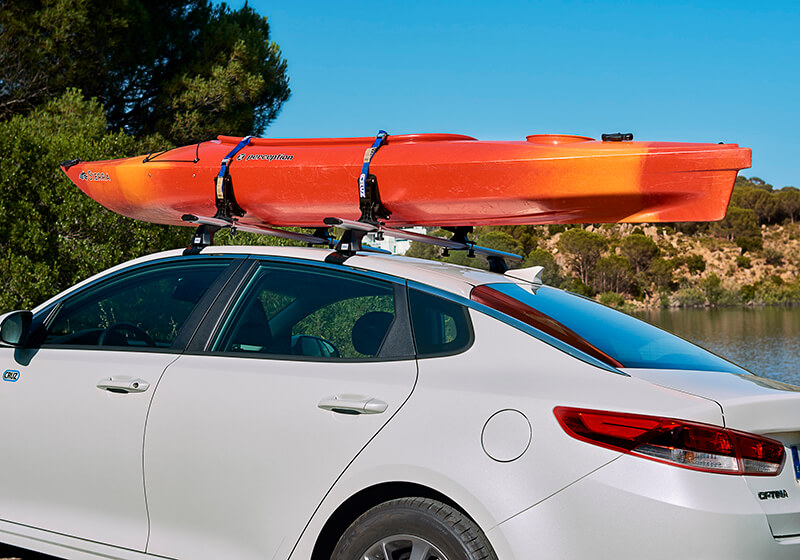 Saddles hold the kayak flat on the roof, this does mean that the boats take up more space on the roof. This can make them a more aerodynamic option.
They are easier to load because you slide the kayak on from the back of the car. Depending on the position of your rear bar you may be able to rest the kayak on the rear saddle and push it onto the roof. Some even have integrated rollers to make loading even easier, for example the Yakima SweetRoll.
You can usually fit one or two kayak saddles on your roof, depending on the length of your roof bars.
Lift-assist kayak carriers are also available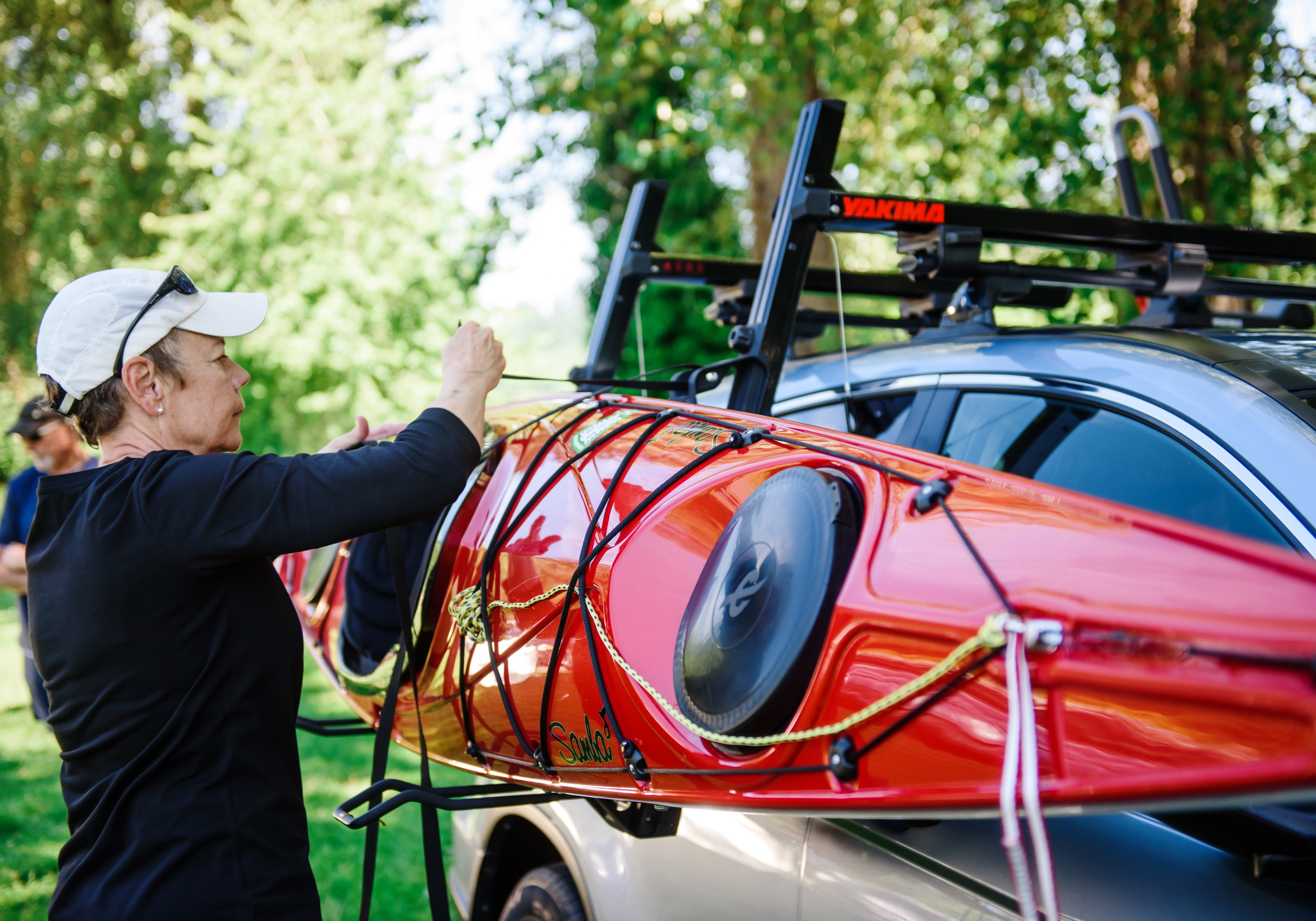 For example the Yakima ShowDown and the Thule Hullavator Pro.
They allow you to load your kayak from the side of the car. They can make a huge difference if you would struggle to load a kayak straight onto the roof. They only work with a particular type of roof bar - this will be an important consideration if you decide to go for a list-assist watersports rack.