Firstly you'll need a set of roof bars. We have a range of bars available for almost all vehicles. If you select your car from the list in the link below you can bring up details of the bars we have available:
Roof bars, Bike carriers, Roof boxes for your vehicle
Once you have a set of roof bars we would recommend using a specific paddleboard carrier to make things easier and ensure everything is secured down properly. You need to make sure whatever carrier you go for fits your bars and gear, particularly if you have a wider board. We have a range of carriers that are designed specifically for paddleboards. They all carry up to two boards. These include:
Alternatively you can strap the boards directly to your bars. We would recommend using a set of longer board pads if you are doing this, we have a range available for all the different bars we sell.
We also have a range of money-saving package deals that include a paddleboard carrier (either the Yakima SUPUP or SUPDawg) with a set of bars. These also include the front tie-down straps to ensure your boards are secured at the front of the vehicle as well as to the bars - CLICK HERE for details on our watersports package deals.
Don't forget the paddles! Accessories are available to help secure paddles on the roof bars, e.g. the Atera mast/paddle carrier, the Yakima Ace O' Spades and the Thule JawGrip.
We recommend you also take a look at the information from Yakima below which gives lots more advice on the best way to carry paddle and surf boards: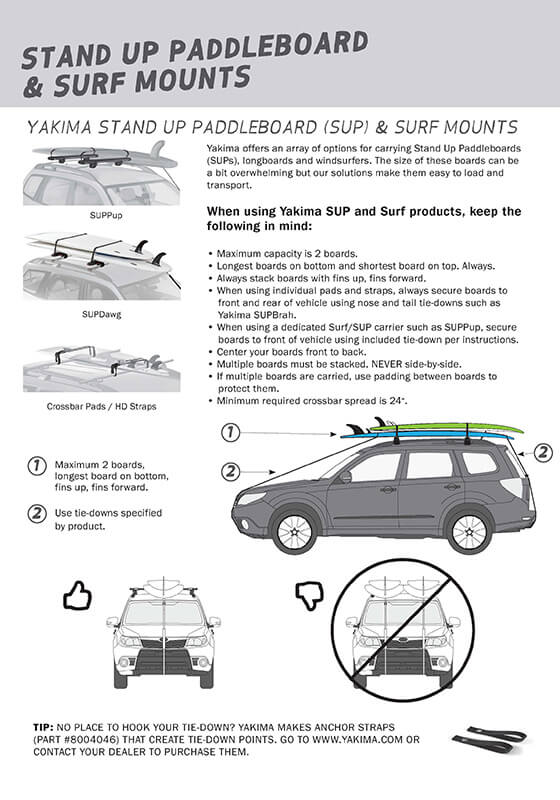 If you are carrying an inflatable SUP do check with the manufacturer to be sure it's OK to carry it on the roof. If you can, ensure it is fully inflated and be mindful of the affect of the sun on the pressure of the board.